Meet Christian Lopez, Service Advisor
When Christian's grandfather, a Master Harley Mechanic, passed away, his tools were passed down to his grandson. Christian then purchased a 2006 Nissan 350Z to use as his first project car.
He began learning all he could – reading books & watching videos – to transform the Nissan into a track car. He built a roll cage, a motor, aero modifications and more, all the while having fun. He started a YouTube channel and started racing at Willow Springs Raceway. (Fun fact: he even got sponsors at the young age of 16!)
Journey to Fletcher Jones
Christian enrolled at the Lincoln College of Technology in Denver, Colorado to pursue a career as a mechanic. Throughout his program, he celebrated many successes, the most notable was taking home the award for #1 student in his graduating class. After graduation, he accepted his first role in the automotive industry: a diesel mechanic; from there, he became a lube technician, service assistant and service advisor. He even briefly spent time as a mechanic on 1960s to 1990s air-cooled Porsche – the most raced for Porsche Club of America – before submitting his application to Mercedes-Benz of Ontario. He shares, "I was submitting applications and Fletcher Jones saw something in me."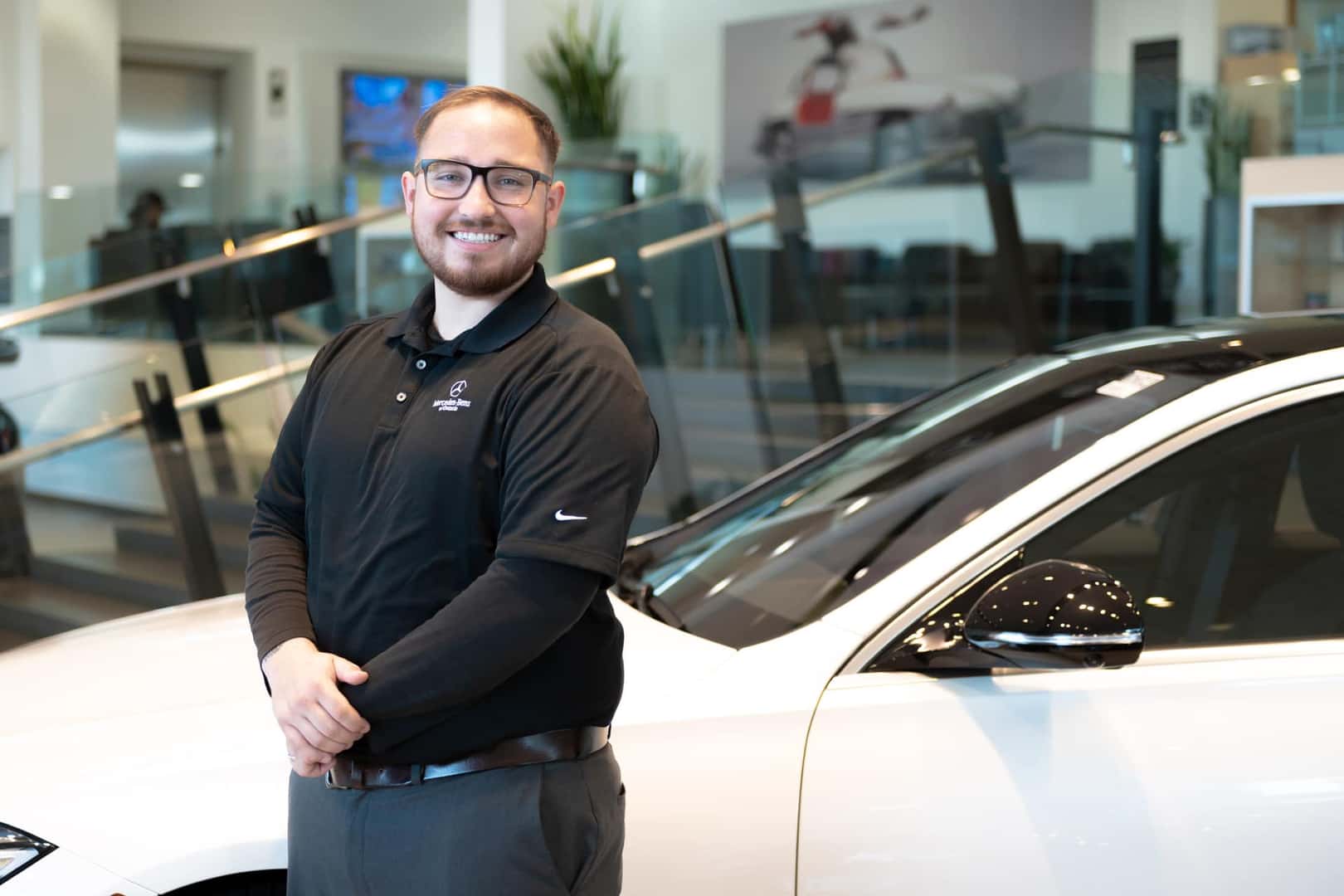 Why Fletcher Jones?
"Fletcher Jones Team Members go above and beyond to guarantee the happiness of our guests; plus, management's approach allows for everything to flow so well," Christian explains. He joined the Mercedes-Benz of Ontario Service Team as an Express Service Advisor and after only a year, he was promoted to Service Advisor. He says, "I enjoy talking to our guests, working alongside my Team and having the opportunity to meet new people."
Service Tip
"Ask questions to learn about your vehicle and open the door to using your vehicle to the best of its ability! For example, did you know your Mercedes-Benz vehicle may have Mercedes me connect?"
Outside of Mercedes-Benz Ontario
Christian spends time bonding with his newborn, taking his wife out on dinner dates to Castaway in Burbank (but hoping to try Nobu soon!) and building & collecting LEGO® sets. His latest LEGO® set was the Ultimate Collector Series Millennium Falcon, and he shares his hobby with the YouTube community.
A Message To Our Guests
"If you ever have a question, just give me a call! If I don't have the answer, I'll learn with you."