What is Mercedes-Benz ATTENTION ASSIST®?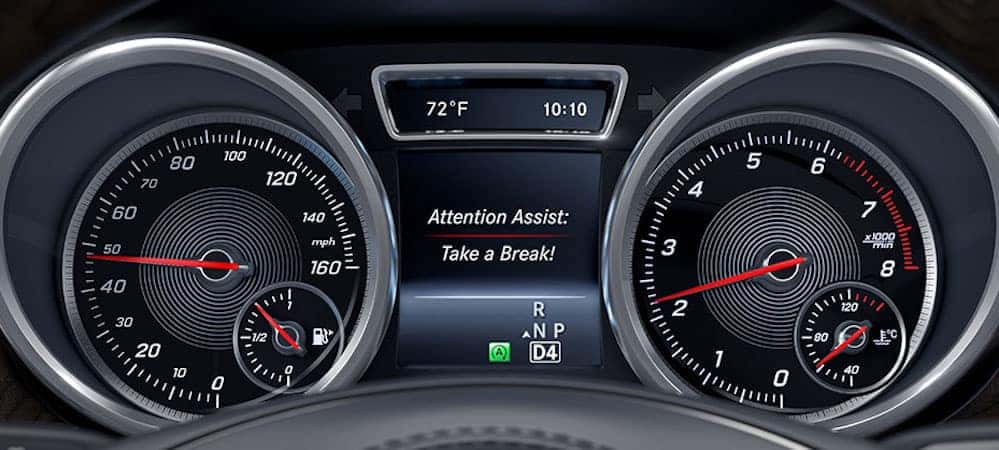 Whether you're embarking on a road trip or running a quick errand in Corona, ATTENTION ASSIST® Mercedes-Benz technology helps to ensure your safety. Find out how the Mercedes-Benz ATTENTION ASSIST® "take a break" feature works below, then make an appointment to experience Mercedes-Benz technology in person at Mercedes-Benz of Ontario near Fontana.
How Does Mercedes-Benz ATTENTION ASSIST® Work?
An industry first from Mercedes-Benz, the ATTENTION ASSIST® uses an innovative sensor and precise algorithm to assess if a driver is getting too drowsy to be on the roads. Here's how it works:
Within the first few minutes spent on Chino roads, the system uses over 70 parameters to assess your individual driving style.
As you continue on your journey to Corona, the system looks for specific steering corrections which can indicate the early onset of driver fatigue.
ATTENTION ASSIST® then accounts for external factors, such as crosswinds and road conditions, and considers how you're handling the controls, buttons, and switches in the vehicle.
If the ATTENTION ASSIST® system concludes that you're experiencing drowsiness or driver fatigue, it will sound an alert and suggest stopping for a break.
Which Mercedes-Benz Vehicles Offer ATTENTION ASSIST®?
The intelligent ATTENTION ASSIST® safety feature is available on many new Mercedes-Benz models, in addition to the many other active Mercedes-Benz safety features like Blind Spot Assist and Lane Keeping Assist. If you're interested in purchasing or leasing a model with ATTENTION ASSIST®, Mercedes-Benz offers it on the following models:
Roadsters: SLC, SL-Class, and Mercedes-AMG® GT
At Mercedes-Benz of Ontario we provide a wide range of new, pre-owned, and certified pre-owned Mercedes-Benz inventory, so you're sure to find a model with ATTENTION ASSIST® that fits your lifestyle. If you need help selecting a Mercedes-Benz model for your Upland commute, speak with the experts at Mercedes-Benz of Ontario.
Learn More About Mercedes-Benz Technology at Mercedes-Benz of Ontario
Along with enjoying the added protections of Mercedes-Benz safety features, San Bernardino County shoppers can get their hands on other cutting-edge technologies features when they opt to drive a Mercedes-Benz. Explore other Mercedes-Benz technologies like PRESAFE®, mbrace®, and DISTRONIC PLUS® today!