What is the Benefit of Mercedes-Benz AIRMATIC® Suspension?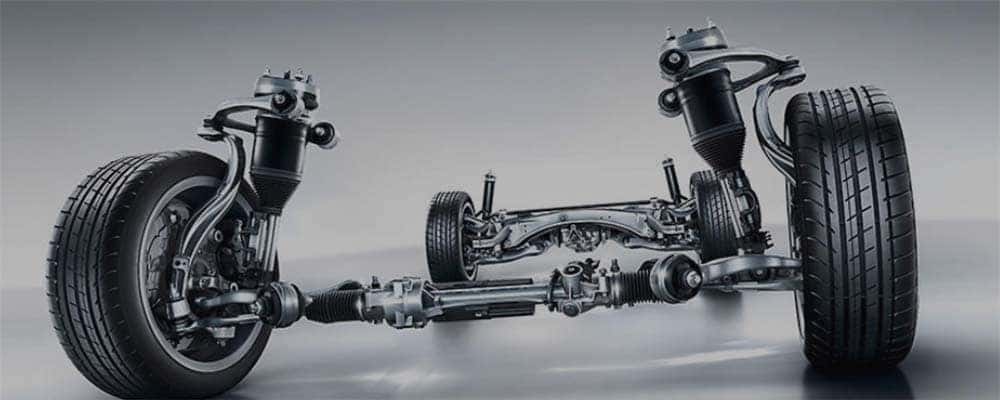 Responsiveness is the main benefit of Mercedes-Benz AIRMATIC® suspension. You may be asking, "Aren't all suspension systems meant to be responsive?" Yes—but AIRMATIC® differs from steel-spring suspensions with its adjustable air springs. For smoother handling, it also works in tandem with Adaptive Damping System (ADS) and responds to DYNAMIC SELECT® drive modes. Read on to learn more about AIRMATIC® in new Mercedes-Benz vehicles!
How Does AIRMATIC® Suspension Work?
Here's a quick breakdown of how this one-of-a-kind suspension system operates:
As each air spring moves vertically, AIRMATIC® adjusts the amount of air for greater comfort and less body roll.
ADS keeps tabs on the road and your driving habits and, within 50 milliseconds, can firm the shock absorbers for controlled handling.
Select Sport or Comfort to adjust the feel of the suspension to your liking.
Unique Features of AIRMATIC®
AIRMATIC® is a self-leveling suspension system; adding passengers or cargo doesn't reduce the comfort of your ride.
On rough roads around Eastvale or Fontana, AIRMATIC® can raise the vehicle with the push of button for greater ground clearance.
At higher speeds, you can push the same button to lower AIRMATIC® for improved aerodynamics and control.
Which Mercedes-Benz Vehicles Offer AIRMATIC®?
Mercedes-Benz AIRMATIC® suspension can be found as standard equipment on the following models:
Learn More About Mercedes-Benz AIRMATIC® Suspension Benefits!
Get behind the wheel of a Mercedes-Benz with AIRMATIC® suspension at Mercedes-Benz of Ontario, located near Chino and Rancho Cucamonga. Schedule a test drive online, or contact us to learn more about AIRMATIC® suspension and how to care for it. We're available every day of the week!